The Best Place To Buy Or Sell Bouncy Castles, Slides, Rides, Obstacle Courses And Attractions
Search

Some of these items can be sold separately if required. Sold with bookings, some of these are at top major corporate events!
Please contact me with any serious interest. These are all great quality products and will earn you good money in the blink of an eye! Only for sale due to ill health and other commitments.
Opportunity to purchase a `once in a lifetime company`
POA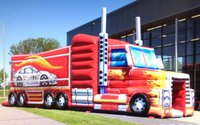 Multi activity bouncy castle. Blow up hoops and obstacles.
Large platform mounted slide
This slide has been made to sit half on a 1m stage. Will require a base or similar to sit ontop of back half of slide.
Inflatable stage, Sides open up fixed with Velcro.
Deal to be done on all items, more discount if all purchased together.
Large bouncy castle

£875 VAT Free ono Showing 1 - 8 of 8 items